At  ALLJOIN we can build traditional or contemporary staircases made from only the finest materials. With Alljoin, your new staircase will be expertly designed,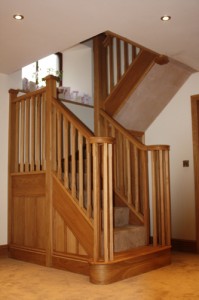 manufactured and installed by highly skilled craftsmen to ensure a perfect fit and full compliance with UK Building Regulations.
Our designs include straight flights, dog leg, winders, landings, open riser, cut strings an even curved flights can be made and supplied with various turned stair parts in a variety of timbers.
Our services also include design, renovation of staircases. We will be pleased to discuss any further details with you.
Whatever your requirement an Alljoin staircase will provide a stunning focal point to your home or commercial premises.
Our images below show just a small sample of the high quality staircases we produce. Please click on any image to enlarge.